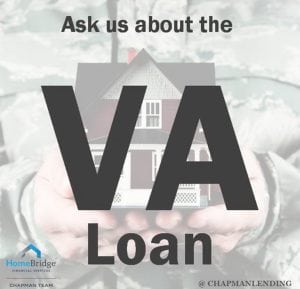 How does one qualify for a VA loan/mortgage?
Very simply put, pretty much just like any other mortgage, with several advantages in the borrower's favor versus conventional mortgages.  First of all, the VA DOES NOT do loans.  The VA is not a mortgage bank.  The VA guarantees a lender's loan up to 25% of  the lesser of the value or remaining debt in case of a foreclosure.  There are literally hundreds of VA approved lenders, and all use roughly the same guidelines.  However, not all VA lenders are created equal.
Requirements vary between different lenders.  Qualifying for a VA loan requires a certain level of income, minimum credits scores, and sometimes assets.  The lender will look at your entire credit, income, and savings profile to make a determination on whether or not you qualify, and for how much.  So what makes the VA loan different?  Here are just a few ways:
No down payment required up to the county limit (25% down beyond)
580 minimum credit score in some cases (620 usually preferred, 640 for top tier rates) – dictated by lender as VA does not have a min FICO requirement.
Better rates on VA loans over conventional loans
No Cap on debt-to-income ratios (DTI)
NEVER any mortgage insurance on a VA Loan
VA loan are assumable by eligible
Approve sooner after a bankruptcy, foreclosure, or short sale than conventional loans
Easy to refinance with a VA IRRRL streamline refinance
One of the most important items in qualifying is your debt to income ratio.  This is the ratio of your gross pay (includes a spouse) and your household debt.  In general, mortgages cap home buyers at around a 45% debt-to-income (DTI) ratio.  However, my team has had VA loans approved with a DTI as high as 66%!  Most banks would not approve this loan.  Some are more risk adverse than others.  To get a loan approved with such a high DTI required the borrower to be VERY strong in every other area except DTI.  Each bank approves their borrowers differently.  To properly qualify someone, an experienced loan officer must look at the complete financial profile of a borrower.
BEWARE:  Not everyone that works at a bank is a licensed loan officer (most are not).  Most VA lenders operate like a call center.  Personally, I spent a year and interviewed over 25 banks before choosing HomeBridge as my mortgage partner.  To find out if you qualify, contact me today.
Other VA Loan Questions:
GET A FREE RATE QUOTE    or    START AN ONLINE LOAN APPLICATION
About the author:  Dan Chapman is the branch manager at HomeBridge Financial Services in North County San Diego, CA.  HomeBridge performs VA loans in 46 states.  Dan is a Naval Academy graduate and Marine Corps and Operation Iraqi Freedom veteran.  He has been focused on helping active duty military and veterans attain the dream of home ownership since 2007.  He is actively involved in several local veteran causes and performs VA loan seminars throughout greater San Diego on a monthly basis.  For a free consultation, please contact us anytime.