What does new FICO scoring really mean for mortgages?
FICO is the most widely used credit score. The three major credit repositories, Equifax, Experian and Transunion, work with FICO to develop their scores. But, when it comes to mortgages, FICO is the only credit score that is considered. So, when FICO recently announced it was changing its scoring system, the resulting headlines caused some confusion and debate. Will FICO's decision to recalculate credit ratings be a boon for the mortgage industry? Some say the changes will not impact consumer credit in any meaningful way. So, what's the real story here?
What exactly is changing in terms of how FICO scores are calculated?
There are two basic changes. First, less weight will be given to debt linked to medical bills. The change is intended to differentiate medical debt from other types of unpaid debt as they are fundamentally different from other delinquencies. Non-payment of medical bills is often attributed to confusion or miscommunication between medical providers, insurance companies and consumers. Second, FICO will no longer allow collections to negatively impact scores if the consumer has settled with a collection agency or paid the debt. This guideline is more relaxed than the previous, which required the black mark of a bill in collections to remain for seven years.
What kind of impact will the new FICO scoring have on consumer access to homeownership?
The new scoring model is a reasonable approach that is likely to make a marginal difference for home buyers. The change is fair, but not extreme. Many consumers are not even aware of medical debt or collections until their credit is run during the loan application process. The new calculations allow for a more fair consideration of these circumstances.
Can you explain what you mean by a marginal difference? Why can't we expect a more profound impact?
The answer to that requires consideration of underwriting and loan approval versus the pricing of the loan. Fannie Mae already recognizes that collections should be treated differently then other derogatory credit. They allow all outstanding collections to remain open on owner occupied, 1-unit transactions. Borrowers aren't required to pay this debt to qualify for a loan. Therefore, the new calculations are not likely to be significant in terms of loan approval. However, estimates are that a consumer with only unpaid medical debt could see up to a 25-point increase in their credit score, which could positively affect their interest rate. Simply put, consumers stand to benefit from lower rates as a result of the changes but overall loan qualification isn't as likely to be impacted.
When can we expect these changes to go into effect?
Don't expect big changes in your credit right away.  The score is expected to be available to lenders around the end of this year, and lenders typically takes months to try out new scoring formulas to see how accurately the new scores predict loan re-payment.  The last FICO formula was announced in 2009 and it wasn't until mid-2011 that most lenders adapted the new formula.
Advice for someone who is trying to get their credit in shape for the mortgage application process with HomeBridge?
Establish a record of being able to pay your bills on time. Because the length of your credit history factors into the calculation, debt can be good if you can show you've had it and paid it back.
For more information about how your credit score will impact the loan application process and what options are available, talk to Jason Wood (760) 217-0820, jasonwood@homebridge.com, www.homebridge.com/jasonwood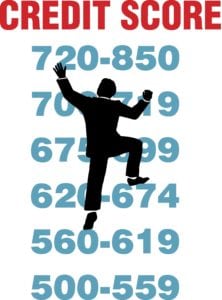 #mylenderjason